Chinese New Year, also known as Spring Festival or Lunar New Year, is the grandest festival in China, with a 7-day long holiday. As the most colorful annual event, the traditional CNY celebration lasts longer, up to two weeks, and the climax arrives around the Lunar New Year's Eve.
China during this period is dominated by iconic red lanterns, loud fireworks, massive banquets and parades, and the festival even triggers exuberant celebrations across the globe.
Chinese new year 2019 pig meaning
2019 is the Year of the Pig according to Chinese zodiac. This is a Year of Earth Pig, starting from Feb. 5, 2019 (Chinese New Year) and lasting to Jan. 24, 2020.
China Zodiac Animal – Pig
Pig is the twelfth in the 12-year cycle of Chinese zodiac sign. The Years of the Pig include 1923, 1935, 1947, 1959, 1971, 1983, 1995, 2007, 2019, 2031, 2043…
Pig is not thought to be a smart animal in China. It likes sleeping and eating and becomes fat. Thus it usually features laziness and clumsiness. On the positive side, it behaves itself, has no plan to harm others, and can bring affluence to people. Consequently, it has been regarded as wealth.
Earthly Branch of Birth Year: Hai
Wu Xing (The Five Elements): Shui (Water)
Yin Yang: Yin
Lucky Signs for People Born in Pig Year:
Lucky Numbers: 2, 5, 8
Lucky Colors: yellow, grey, brown, gold
Lucky Flowers: hydrangea, pitcher plant, marguerite
Lucky Directions: southeast, northeast
Time for Family Reunion
Like Christmas in Western countries, Chinese New Year is a time to be home with family, chatting, drinking, cooking, and enjoying a hearty meal together.
When is Chinese New Year?
Unlike the universal New Year observed on January 1st, Chinese New Year is never on a fixed date. The dates vary according to Chinese lunar calendar, but generally fall on a day between January 21st and February 20th in the Gregorian calendar.
How long is the festival? Most people in China have at least seven days off work, including three days' legal holiday, and the preceding and following weekends. Here's a CNY timetable for recent years, marked in UTC/GMT+08:00.
Why is it called Spring Festival?
The festival date is in January or February, around the Chinese solar term the 'Beginning of Spring', so it is also named the 'Spring Festival'.
House Cleaning and Decorating – half month before
New Year DecorationNo matter whether in a city apartment or a countryside villa, there must be a diligent housewife exerting all her energies to carry out a thorough clean of the house before Chinese New Year. Sweeping, mopping, wiping, washing… Sometimes the whole family needs to give a hand with the chores, to make sure the house is rid of the old year's dust and is prepared for taking in the fortune of the New Year. Then every house is decorated with the most favored color, the bright Red – red lanterns, Chinese knots, Spring Festival couplets, 'Fu' character pictures, and red window paper-cuts.
Family Reunion Dinner – New Year's Eve
Family Reunion DinnerHome is the principal focus of the Spring Festival. All Chinese people manage to make their way home at the latest by New Year's Eve, for a reunion dinner with the whole family. The essential course on all Chinese menus for a reunion dinner will be a steamed or braised whole fish, representing a surplus every year. Various kinds of meat, vegetable, and seafood are made into dishes with auspicious meanings. Dumplings are indispensable for northerners, while rice cakes for southerners. The night is spent enjoying this feast along with cheerful family talk and laughter. Read more Chinese New Year Foods.
Giving Red Envelopes – Best Wishes through Money
Red EnvelopesFrom newborn babies to teenagers, luck money will be given by seniors, wrapped in red packets in the hope of dispelling evil spirits from the kids. CNY 100 to 500 notes are commonly sealed in a red envelope, while there are big ones with up to CNY 5,000 especially in the rich southeast regions. Besides a small disposable amount, most of the money is used to buy the kids toys, snacks, clothes, stationery, or saved for their future educational expenditure. Read more about Red Envelope.
What to Eat – Priority of the Festival
In China, an old saying goes 'Food is the first important thing for people' while a modern saying '3 pounds' weight gain atevery festival.' Both show the Chinese people's love of food. There probably are no other people quite like the Chinese who are so passionate and fastidious about cooking. Besides basic requirements of appearance, smell, and taste, they insist on creating festival foods bearing auspicious meanings and bring good luck.
Setting off Firecrackers at 0:00
Firework ShowThere is New Year bell on the TV gala at 0:00, but you can hardly hear it since there would be loud bangs of firecrackers, from 0:00 to 0:30 and even later. Chinese people have by long tradition set off firecrackers, originally to scare away the legendary monster Nian which emerges at midnight. In recent years, many urban areas have a firecracker ban or set special area or period for fireworks, to prevent accidents and threats to air quality.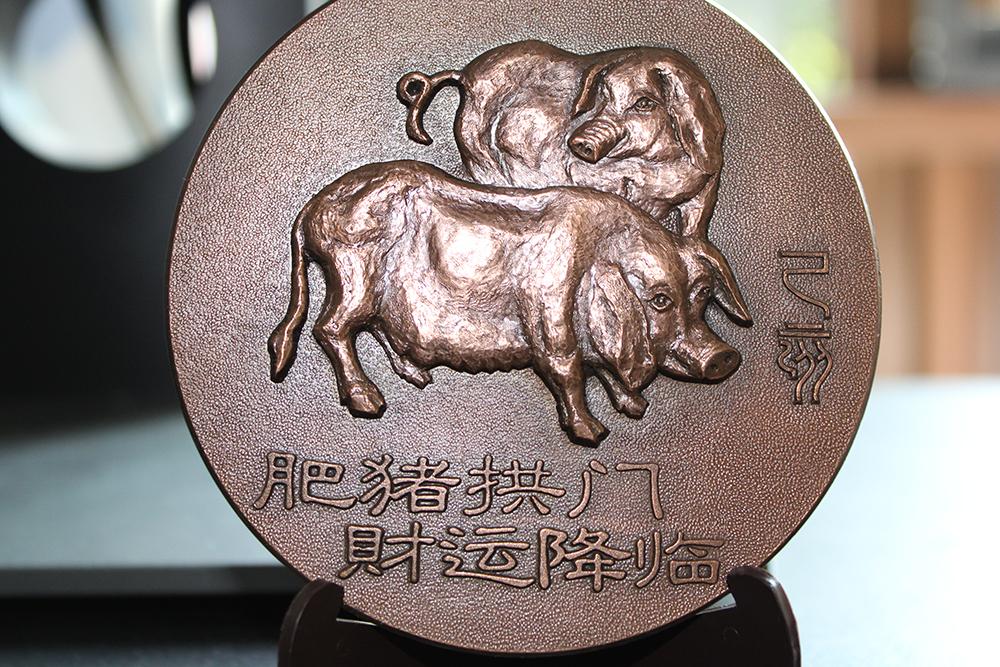 Happy Chinese New Year! I wish you a good source of money, like a fat pig; body is great, like a bear; love is sweet, beautiful like a bee; good luck again and again, more like a cow!