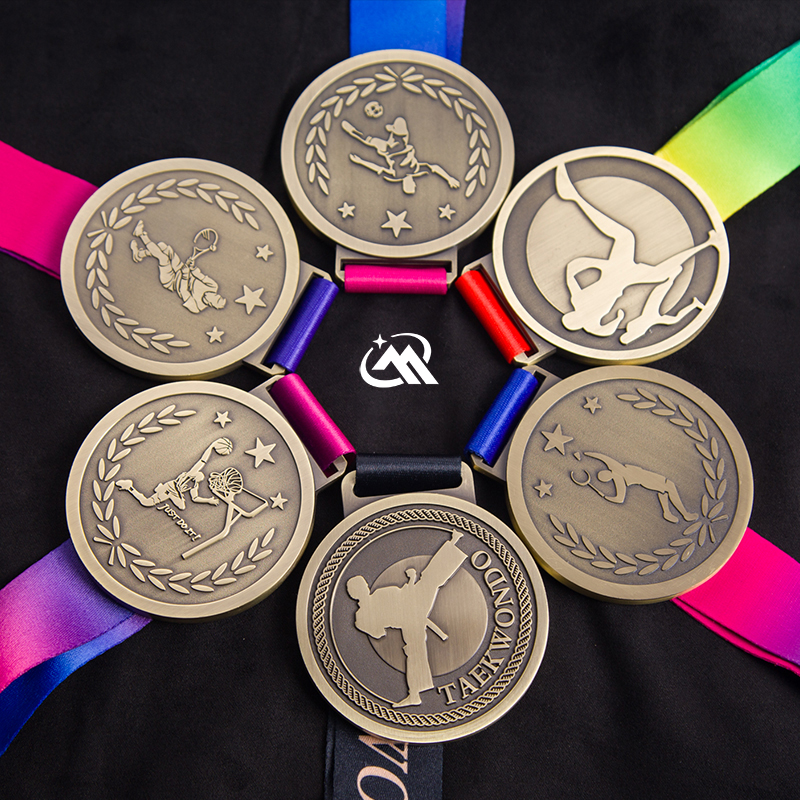 What is the Sports Medals?
Sports medals are a custom medals that are an award to praise those people who achieved their compliments in their competition. Usually, sports medals contain lot of classification.
Type of Sports Medals:
Baseball Medals
Baseball is one of the ultimate team sports, and needs to make great efforts from every player and coach on the team in order to achieve success. At the end of a long competition, we can provide our baseball medals to witness the team's efforts whether you are individual or team. No matter what the type of baseball medals is, it's right here in Miracle Custom. Our Baseball Medals must be a best choice with your players! Moreover, the selections of our baseball medals are unique enough and high quality to make your awards look like a home run.
Softball Medals
Softball is one of team sports built on effort and friendship. Players are trained day and night to improve them and the team as a whole. A great way to celebrate your team's efforts is softball medals. Miracle Custom offers the high quality softball medals for athletes with a variety of options and free unlimited personalization. Miracle Custom is dedicated to offering the best selection of softball trophy medals for motivation and recognition of volunteers, coaches and players.
Volleyball Medals
For celebrating the end of the volleyball season, our volleyball medals are best whatever in price or quality! Miracle Custom makes ordering volleyball medals easily. You can trust that our design is amazing and engraving quality will look extraordinary, which makes your eyes light up! We have unique volleyball medals to honor every participant. Usually, volleyball medals have been around with a delicate volleyball picture.
Football Medals
Football originates from 1920 and it becomes the favorite sport in the nation, because this is an unexceptionable game to watch and play. Sometimes it can be a little bit rough sport. Score a goal with football medals from Miracle Custom! We offer a wide type of youth soccer medals for people all ages, ranging from new players to elite tournament winners! Whether you commemorate the player's efforts or celebrate a big win, we have kinds of football medals for any purpose. So why not give your athlete order football medals to motivate them?
Gymnastic Medals
Whatever your style, taste, or budget is, we have a personalized gymnastic medals for you, your parents, your coach, and your team. This sport is a great and easy sport, basing on other sports; it not only keeps them strong, flexible, and fit but also develops self-esteem team spirit. Maybe your child or your member is learning gymnastic, why not choose to order gymnastic medals for them or promote gymnastic on a basis of your design?
Wrestling is a savage sport involving grappling type technique. The sport can be either competitive or recreational. Wrestler does more exercise to improve their strategy and physical strength. Wrestling medals become popular wrestling participation awards for wrestling teams. The wresting medals can make wrester remember their experience in his competition and remind him to keep physical and spiritual selves strong!
Swimming Medals
Swimming is an individual or team sport that moves the body through water. The sport must be guided by the coach at the beginning. Swimming medals are a great way to encourage people. Swimming medals usually are designed with the water. Our wide selections of swimming medals are free and easy to choose. All of our orders come with guaranteed fast shipping and 100% customer satisfaction. Our eye-catching designs are produced by using the finest materials and deliver fast on quality while staying on budget!
Track Medals
There is no end in the competition like some track awards, and the famous track events are jumping or relay race. It is associated with people's lives and easy to carry out as well as promote physical and psychological health. Miracle Custom is dedicated to offering the best selection of track, cross country and marathon recognition medals. Track and cross country runners deserve a medal after a solid performance.
Specifications:
Logo can be 2D or 3D, raised or recessed per your requirements.
Available material: Bronze, copper, iron, zinc alloy, pewter, aluminum.
Size: Can be customized per your requirements or even big size
Color: Hard enamel (cloisonne), soft enamel or printing according to existing colors on chart and PMS book
Plating: Gold/ silver/ cooper/ bronze/ white nickel/ brass fake gold/ satin gold/ satin silver/ satin nickel/ black nickel/ dyeing black/ gun color/ antique gold/ antique silver/ antique bronze/ antique copper/ foggy painting gold or two & tri-tone plating
Attachment: V-shape or H-shape ribbon, ribbon drape.
Packing: individual bagging, or according to customer's request.
Why should you Order Custom Sports Medals from Miracle Custom?
More than 10 years of experience in making sports medals
Highest Quality Materials & Workmanship
Free Artwork & Design Consultation
Rush Order Acceptable
Free Samples
PayPal Payment Guaranteed
Fast reply for any questions
Fast Turnarounds for Demanding Deadlines
Order status update
Tracking update
Friendly & Responsive Custom Service
Contact us
We offer a fantastic custom medals service, producing custom made led blank medals to meet your logo, size and ribbon needs. Contact us for a quote.