Miracle custom Factory also offers many different plating options for you to choose from. If you have questions about which types of platings can be used with certain types of pins, please contact us and we will be happy to help you decide which plating and finish is right for your metal medals.
After zinc alloy hot chamber die casting, deburring polishing, raw model cleaning to make the surface smooth, it comes to the plating process with firstly a copper base and then nickel, and finally plating other colors with oil sealed to prevent oxidization.
Sandblasting procedure is available for 2D design only not suitable for 3D cubic designs.
These are commonly used finishing for reference and communication.
Different designs(especially 3D cubic with antique finishing) will not be always identical to this plating chart.
There are other kinds of special finishing such as two-tone effects available.
Most race medals are made of zinc alloy. When the mold is made and metals are pressed, they are unfinished and would need to be polished and electroplated. The picture below shows how race medals initially look like: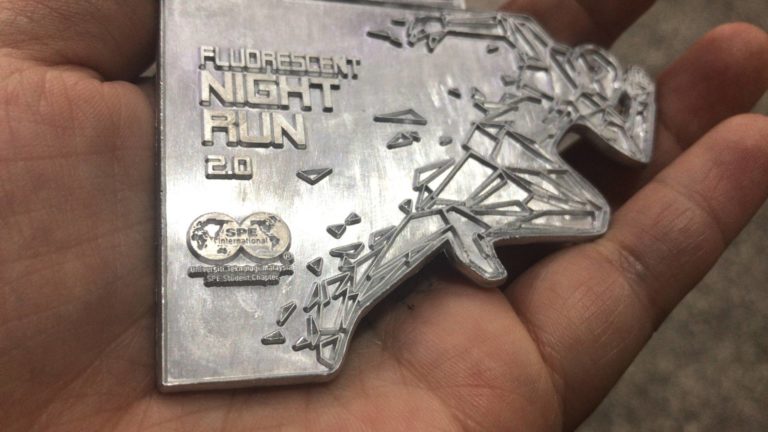 Choosing a finish, also known as a plating color, can dramatically affect the final look of your piece
Below you will see 3 different examples – Gold, Silver, Copper
All of these plating finishes are available with our "Standard" line of buckles, but can also be used with our "Premium Pewter" line of buckles.
Generally, with Premium Pewter, most people take the natural pewter finish, which is similar to the silver look – but even whiter in appearance – naturally brilliant.
Pewter is excellent at reproducing intricate details such as fine lines, and more complex logos. In a less detailed design like the one below, either the Standard or Pewter product lines could be used.
For an additional charge, we can produce some of your order in any mix of plating colors – this can be quite useful to make distinctive buckles as collector's items, or to recognize different levels of achievement or awards.